Dear Friends,
A major announcement today. I am finally getting around to reading Sherry Turkle's bestseller from 2015, "RECLAIMING CONVERSATION: The Power of Talk in a Digital Age."
Is she just the guru to teach an old WalkyTalky some needed new tricks?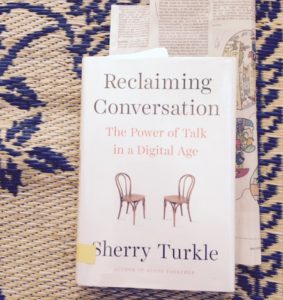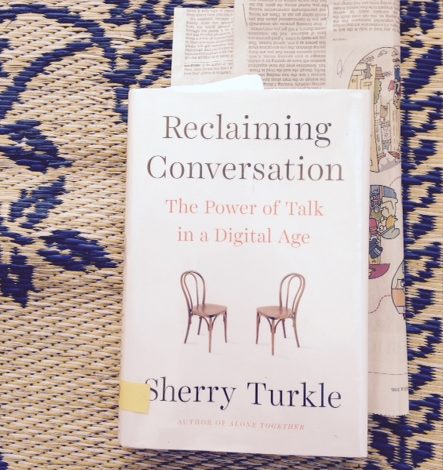 Her thesis is that our, "new mediated life has gotten us into trouble." We've lost the art of conversation.
But she claims the way to reclaim it is: FACE TO FACE CONVERSATION
That's what can save us.
YAY!
A sociologist and psychologist, Turkle calls conversation: THE TALKING CURE. The problem is, "these days we find ways around conversation." Today's mediated life (online, on smartphones) she writes, is "a flight from conversation. At least from conversation that is open-ended and spontaneous, conversation in which we play with ideas, in which we allow ourselves to be fully present and vulnerable."
(Which is what I've been trying to stimulate as a local folk journalist)
Real conversations, like the ones she enjoys, "require time and space, and we say we're too busy" for that.
(Exactly how I feel about meditation: I'm too busy!)
Seriously, Turkle warns that today's loss of talk signals a new Rachel Carson SILENT SPRING.
That serious? Yep.
"Only this time," she writes, instead of an attack on the environment it is an attack on empathy."
EMPATHY? OH NO! I FEEL YOU, NO?
Turkle studied American youth in schools, at home, and at play for this book and discovered that they're not developing emotionally. A 12 year-old will whine on the playground, "YOU CAN'T PLAY WITH US," like an 8 year-old would.  No empathy there.
Old conversation used to teach empathy. But today's students seem to understand each other less. And she blames our constant connectedness, ironically.
"Computers offer the illusion of companionship without the demands of friendship."
"We are being silenced by our technology," writes Turkle.  In a way, "cured of talking."
With tech always around (phones at the dinner table), "Conversation is fragmented and everyone tries to keep it light."
KEEP IT LIGHT
Tech gives us a "Goldilocks Effect": having, "each other at digital distance—not too close, not too far, just right."
In contrast to human relationships "which are rich, messy and demanding."
And this Goldilocks Effect, she writes,  "is part of the move from conversation to mere connection."
But what about E.M. Forster's fabulous admonition to, "Only connect."  Aint that enough anymore?
Connection through conversation, yes, she says.  "Technology enchants," she admits. But it also "makes us forget what we know about life. Every time you check your phone what you gain is a hit of stimulation, a neurochemical shot, and what you lose is what a friend, teacher, parent, lover, or co-worker just said, meant, felt."
WHOA! DID YOU KNOW PLAYGROUND ACCIDENTS ARE INCREASING BECAUSE PARENTS ARE ON THEIR PHONES?
AND DID YOU KNOW FACEBOOK HAS NO THUMBS DOWN?
Turkle says that on social media you learn to only share the positive. That when we don't communicate face-to-face, it's much easier, "to compose, edit and improve as we revise," conducting that conversation online.
But conversation is about the narratives in our lives. "Conversations with a good teacher communicate that learning isn't all about the answers. Its about what the answers mean."
WHAT'S IT ALL ABOUT MR. NATURAL?!
So what does this mean?  More importantly, what does it mean for your average WalkyTalky seeking clever conversations?
I cannot say it better than she does. I'm sure it will come back, creativity-filled fun conversation. Everything old will be new again, etc. "Thrilling conversation" as "a crucible for discovery," as Turkle reminds us.
BORING SIDNEY, BORING!
But in the meantime, to kids today the greatest fear is BOREDOM.   
However, Turkle posits, "boredom is directly linked to creativity and innovation….like anxiety, it can signal new learning."
So what is to be done? "Conversation?" says one of her college-age friends. "It died in 2009." (Right around when people began sharing things on Facebook, where the attitude is. "Don't talk it. Post it. Share it.")
Well, since I certainly don't want to be boring for our younger readers…herewith no more trying to tell folks how not to bore other folks anymore…..zzzzzz….what a snoozer, right?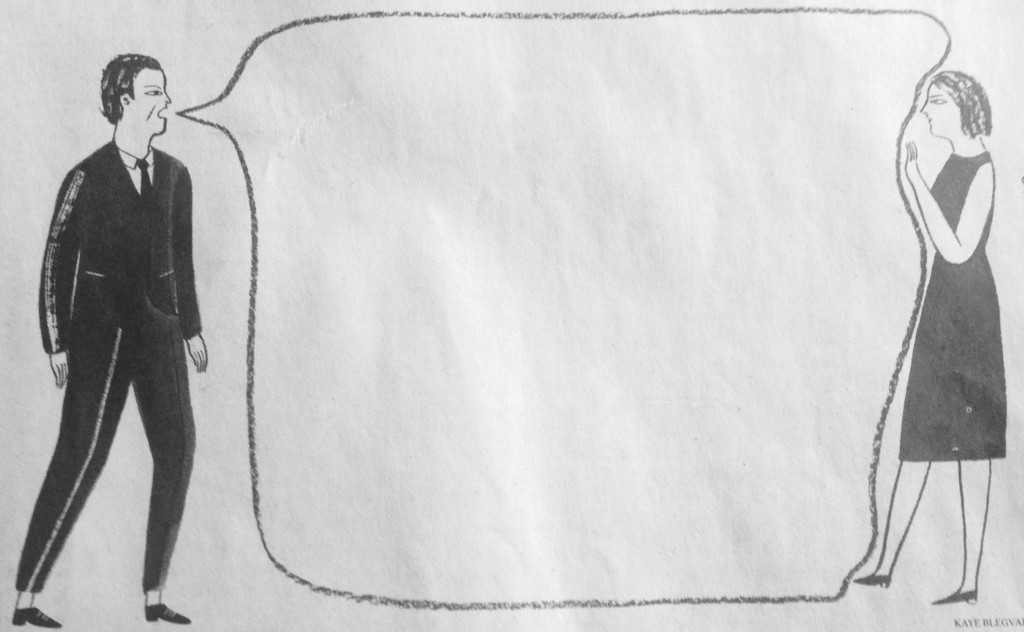 And so from now on, this blog will feature short narrative compression about other things. Things like FOOTBALL and MUSIC and DEATH and SHAKESPEARE and RADIO and wacky WalkyTalky man-on-the-street-scene interviews about LOVE and GOD and ELROY JETSON.
Stay tuned. Next time I'll try to explain this empathy thing. And who knows? This stuff may even stimulate conversation.
LINKS
"RECLAIMING CONVERSATION" The Power of Talk in a Digital Age by Sherry Turkle (Penguin 2015)
http://www.reclaimingconversationbook.com
Turkle's mentor is David Riesman, author of The Lonely Crowd (1950), which I recall we were assigned in Sociology class weren't we?
http://www.anb.org/articles/14/14-01157-print.html
Should we talk about the weather?
Should we talk about the government?  
REM "GREEN"